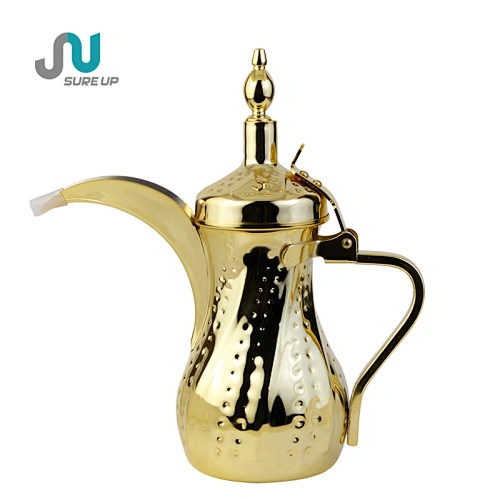 OSUX-GOLDEN
Product name: Stainless steel arabic coffee pot

Capacity:12oz/22oz/26oz/32oz/40oz/48oz/60oz

Material: Stainless steel

Custom logo: support

Custom colors and patterns: support

Custom shape: support

Custom materials: support

Custom packaging: support

Lead time: About 45 days
EXCEPTIONAL CUSTOM SERVICE ?
We are a professional manufacturer of stainless steel arabic dallah and glass inner coffee pot and water flasks providing OEM and ODM customized services. More than 12 years of experience and cooperation with more than 200 brands, including UNITED AIRLINES, Walmart, PANTONE, LIFETIME, etc. We have more than 100 patent certificates to help more than 250 customers establish their own brands, choose SURE-UP, and help you better sell stainless steel products.

FRESH ALL DAY INSULATED PITCHER ?
Our double-walled stainless steel arabic dallah holds enough for almost 60oz. Cups of coffee! This capacity makes the large thermos perfect for family, meetings, daily life, and everything!

EASY TO USE AND DURABLE ?
An arabic dallah of your dreams - Simply press down the lid and watch your favorite beverage come out the spout. Whether it be iced tea, hot chocolate, mulled wine, or coffee, there is no limit!

SIMPLE CLEANING COFFEE CARAFE ? 
Our arabic coffee pot with handle is designed with a large mouth opening to make filling and cleaning a breeze - simply wipe the inside with a sponge.